OUR ACCREDITATIONS
AKRoN Roofing has proven itself to be an ethical, legitimate, and trustworthy local business. We carry $6M business liability insurance, we carry all applicable municipal licenses, we are a bonded, pre-paid licensed contractor with Service Alberta, and we are covered by the Workers Compensation Board. All these licenses and coverage protects our customers and takes the worry out of choosing a contractor.
AKRoN Roofing is proud to be recognised and accredited by a number of leading professional organizations and associations.
BBB (A+ RATING)
Being a member of the BBB means AKRoN Roofing is part of a marketplace of trust and integrity. We love their slogan, "Start with Trust" and we couldn't agree more. We're a small, ethical company offering full service and special attention to detail plus quality customer service from the owners that only small companies can provide. Also, we are nominated for a BBB Ethics Award.
AKRoN Roofing can help you with your roof. With over 25 years of experience in the roofing industry, we are proud to carry the gold-standard Haag certification. Scientifically based damage assessment techniques gained in both our experience and Haag's rigorous 3-day certification training course means our roof reports offer authority on roofing damage. We have a comprehensive understanding of the manufacture, installation, weathering, hail damage, wind damage, maintenance, mechanical damage and repair costs of all major roofing products, including asphalt/composition shingles, wood shingles/shake, concrete and clay tile, various synthetics, slate, and metal. As a Haag certified inspector, our report findings and conclusions carry the true credibility and authority the roofing and insurance industries demand.
HCI Number: 201902404
We are extremely proud of our status as a GAF Master Elite® certified contractor. With all our quotes, we offer our customers industry-leading transferable warranties that are easy to understand. If you think a 25 year workmanship warranty carried by the shingle manufacturer sounds good, let's talk! As GAF describes, "Master Elite® Certification is GAF's factory certification program that provides ongoing training to roofing contractors and assurance to you that the roof will be completed well and professionally. Only 3% of all roofing contractors have qualified as Master Elite®. Choosing a GAF Master Elite® contractor is your assurance that you'll be dealing with a quality, and dependable professional contractor not some "fly-by-nighter". A good roof is about the complete system, not just the shingles you see on top.
GAF is the oldest roofing manufacturer in North America and AKRoN Roofing trusts GAF products to protect what you love.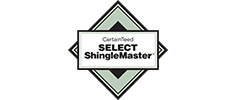 CERTAINTEED SELECT SHINGLEMASTER™
CertainTeed stands behind AKRON's installations. As a top-level certified SELECT ShingleMaster™ contractor, AKRON can offer warranties that not only cover material defects and related labour, tear-off, and disposal, but CertainTeed backs our work for up to 25 years on a residential installation of CertainTeed shingles. When your CertainTeed roof is installed by AKRoN Roofing, you'll have peace of mind that you have chosen a roofing system with one of the highest standards of quality, installation, and warranty available on the market today. We trust CertainTeed's products and warranties, so you can too.
EUROSHIELD®
We are proud installers of G.E.M. Inc.'s Euroshield® rubber roofing. We have been installing the product since 2007 throughout the city of Calgary and across Southern Alberta. We have represented Euroshield® at the Vegas International Building Show and consulted on jobs as far away as Chicago. We feel honoured to be continuously invited to the Euroshield® booth at the Calgary Home Renovation Show, the Home + Garden Show, and the Fall Home Show. When installed by AKRoN Roofing, a Euroshield® roof will be last roof your house will need!
OTHER
CERTIFICATIONS
AKRoN Roofing offers industry-leading warranties with our quotes.
Certifications mean that manufacturers trust our installations.
We're certified with CerainTeed to offer the impressive SureStart Plus 4-Star warranty, only available to certified contractors.
We're certified with BP to offer the Weather-Tite Warranty.
We've received installation and product training from VELUX and are certified installers, meaning we can confidently help you with choosing the right skylight for your home.
AKRoN Roofing is Homestars verified. Our legal and professional requirements have been met for homeowners to trust us with their next renovation reroofing project.
AKRoN Roofing is a certified residential contractor for Malarkey Roofing Products. This recognition gives our customers confidence that we have the training for proper installation as well as the licensing, insurance, WCB, BBB and reputation required by Malarkey for certification.
Approved Firestone and Johns Manville TPO Contractors
OUR CERTIFICATIONS INCLUDE